Last Saturday, was a warm sunny day in Redondo Beach. A good day for fishing; the pier was lined with people casting their fishing rods. Mackerels--the fish of the day--were being reeled in
every minute.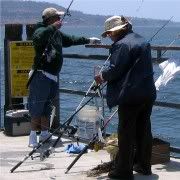 A woman prying her catch of mackerel from one of her hooks.
It's only noontime and this much is what was caught by this couple. And if they keep at it till late afternoon, they would get another boxful of fish. What to do with this much fish? Have a fish party-- fried fish, grilled fish, steamed, escabeche, chowder, fish soup and/or dried fish.
And after the party, one have had enough fish to last one a year.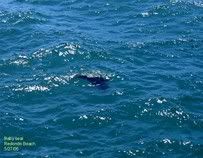 A lone seal swimming by the pier, watching people watching. Watch out for those hooks! You might end up in someone's dining table. Eek! I've never heard of a seal being cooked or eaten (by humans). I've partaken of a grilled shark and it was good.
A red snapper at the fish store eyeing buyers eyeing it. "Don't stare at me, buddy. I'm not gonna buy you; I've had enough of fish for the day."