She, err, he came strutting down the hall, swinging and swaying to the tune of "Here comes Santa Claus! Here comes Santa Claus! Right down Santa Claus Lane..."
He was given a rousing welcome by all, old and young members of the Philippine-American Association of SCV. Each year the association celebrates the birth of Christ with a party in one of the local churchs' hall; each year it's participated by everyone. The young do their own singing group, while the older members have their own as well.
Of course, there's the usual potluck dinner. We have all the great dishes which included lechon, pancit, lumpia, fried rice, and etc. ; desserts made up of leche flan, cake, fruit salad, and others I couldn't remember the names.


Here's Santa handing presents to the little ones. The older ones have theirs as well. Why not? We oldies want one too.
I made a special request to Santa to give me a car like this one I saw at the mall. It's all set to go, with a ribbon tied neatly to it, polished and so shiny. All I needed is the key and some $$. I, however, do not have a lot of that $$. So, I was thinking that if I ask Santa, he would give me this one request. He said no. All right. I'll try again next year.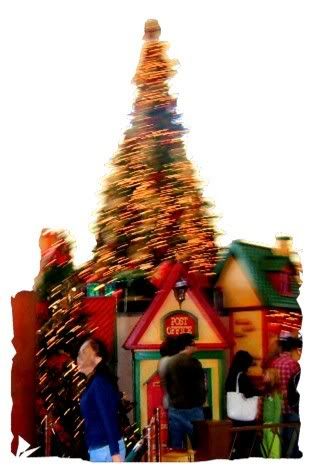 Maligayang Pasko sa Inyong Lahat!

**********************