On the last Saturday of the month of January my husband and I headed to Redondo Beach. But before going there we went to a computer place where we purchased computer parts that my husband needed to put together in preparation for the coming of the new Windows, the Vista. This place was in Manhattan Beach, a few miles north of Redondo Beach. After we went around the place looking at all the merchandise, comparing and selecting, we made our purchases, and we headed to Redondo Beach. We parked at the residential area close to the beach, about quarter mile away, and walked towards the pier. (This is one way of stretching our legs...by walking.) We went to our favorite restaurant, right on the pier, where we ordered our usual hot and spicy seafood soup.
After our lunch we took a stroll on the pier. The clouds were gray that day, and there was rain that morning when we were on the freeway. So there were only a handful of people on the pier, a few were fishing, but it seems the fish were not biting. Although it was overcast there were sailboats on the water. My first time to see them, since I've been coming to this place.
One side of the pier was deserted. The early morning rain had turned away beach goers.
This family still managed to have a picnic at one of the tables. The gloomy weather has not discouraged them.
The pier was still teeming with birds of all kinds. I took pictures of those that took my fancy.
This one above has only one leg. My husband peered to see if it really has one leg, or if it's folded up. It has learned to balance itself with just one.
This bird above caught...not really caught, but grabbed a fish from another bird. (The other bird stole it from a fisherman's catch.) It's trying to fend off other birds from stealing it. Others are waiting for the chance to pounce on it...circling it, waiting...and waiting.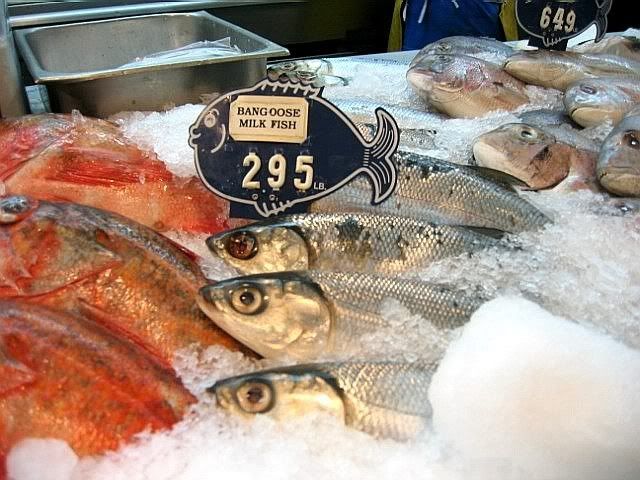 We went down to the fish store and restaurant and checked out what they have. They have prepared dishes, like the shrimp special above, and some fresh fish like: yellow tail, pompano, tilapia, sardines, anchovies and many more. They have bangus, which they called bangoose. Oh, very expensive--$2.95/lb. Cheaper at Pinoy stores, of course.
We were at the boardwalk when it began to drizzle, so we thought we should head back home. There were some accidents on the road as the wet asphalt became slick and drivers were not careful enough.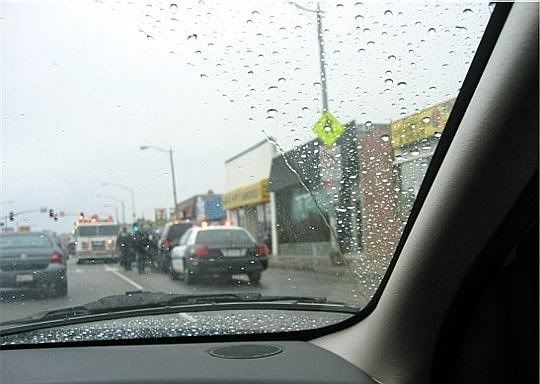 This accident on the surface road had someone badly hurt an ambulance had to transport the driver to the hospital. Some were just fender benders. Traffic on the freeway was long and at a snail's pace. That's what usually happens when it rains.