We had another scorching day today here in Southern California. The temperature hit over 100 degrees Fahrenheit; it was 90 degrees in the shade by late afternoon. This went on with other states east of California, i.e., Nevada, Utah, Idaho and Arizona. We were asked to conserve energy to prevent power outage that would lead to rolling black outs. Mostly I stayed downstairs where it was much cooler. I have taken one of my easels down to the game room so I can do a little bit of painting. But the heat was unbearable, I didn't feel like doing anything. A little exertion of effort was so tiring it was best to stay motionless.

How I wish I could lounge in a hammock by the seaside and read a good book; drink ice cold buko and lull myself to sleep. Aah, dream on.
*************************

My husband and I had gone to Redondo Beach, a 50 miles drive down south, last Saturday. It was cool there. The breeze coming from the ocean was so refreshing. After having lunch we took a walk at the pier and watched people fish; fish were not biting. We walked down to the boardwalk and stopped by the ice cream place and we had our usual one scoop ice cream which we shared. The young fellow who usually serves us wasn't there. He quit and went back to school. He knew me already and always had an extra cup, spoon and napkin for me. Two ladies took his place: a mother and her daughter. After we finished our ice cream we headed to our car and drove back to our hot, hot, hot place, near the desert.



Fish were not biting.
The beach was crowded with people cooling off from the heat.


A family filleting their catch.



At the upper level, we watched people stroll the boardwalk.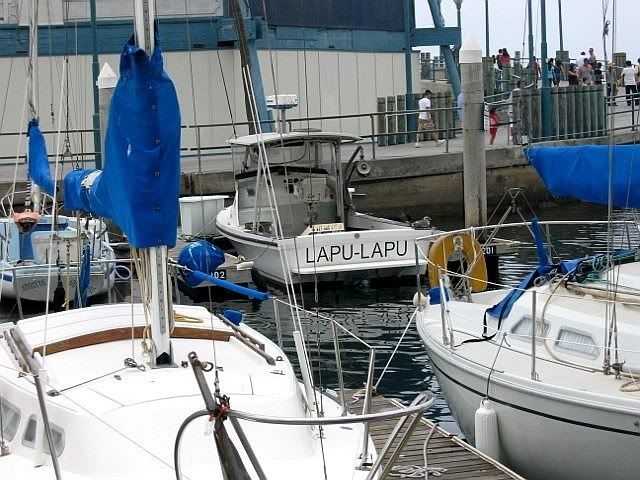 A boat with a very familiar name.
*************************
Right now, I feel like dipping in a pool. I wouldn't care if I get toasty brown...aarrgh, it's just too darn hot. When is this going to end?