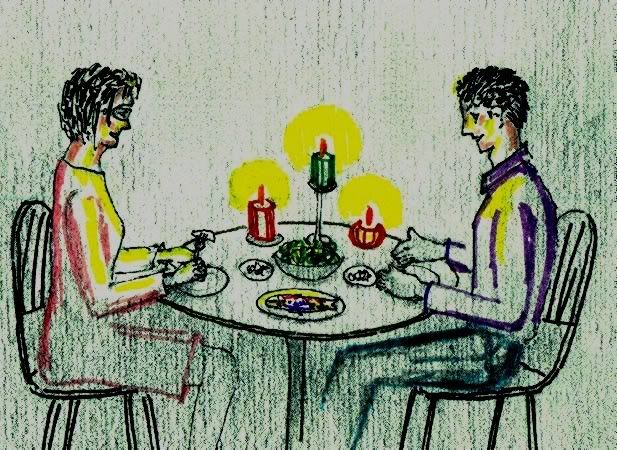 I took 3 of my candles and sat them on the table and lighted each one of them. I placed them by the dinner plates and the piping hot food. I called my husband and he sat next to me. The candles were flickering, throwing lights on our faces and everything around us. My cousin who is with us temporarily sat on my left side. We are having candle light dinner on this cold Monday night.
Earlier, a little before 7 PM, as I was about to call everyone to the dining table for dinner the power went out. Luckily I have just cooked dinner and warmed up some leftovers when the lights went out. Rather than wait for the power to go back on, which we would never know when, it was unanimously voted that we sit and have our meal.
Right after dinner, my husband made a call to the Edison Company to report the power outage. It turned out that there was a burned transmission in our immediate vicinity. Our track was the only one affected, which means only about a hundred homes. My husband having been involved in electrical engineering (construction, installation and design) knew what was to be expected in repairing the damage. He figured it would take the Edison people till morning to replace the burned transmission. So, there was not much we can do.
I stepped outdoors and saw that the moon was out and it lit our track in a soft grayish glow. Our little downtown was brightly lit. They have power down the hill and the track next to ours.
I went back inside the house and sat in the living room with the little candle on the coffee table. There was not much to do. So, me and my cousin just talked; reminisced about the old days; talked about people who have passed on; who are still around and where they are; who was what; who sired who; who was the bastard and so on. Now I know how the tree branched out. My mom never talked about our blood lines. And through my older cousin I can trace somewhat my blood relation with some of my cousins, uncles and aunties. All I knew before was that we were related, but how that came about, I never knew.
Later on we went upstairs. My bedroom's door blinds were opened all the way to let in the moonlight. A little later I fell asleep...I think.
I was startled by the door bell when it rang. (It does that when the power goes on.) Ah, we have lights. I checked my cellphone for the time and it was 5:09 AM. My husband got out of bed to turn off whatever lights were on. The TV downstairs was rebooting. Oh, good, now I can watch some show tonight, and, of course, log on to the internet.
***************