This is the temperature reading in my patio.
When I woke up yesterday morning it was raining and cold. A 50 deg. F (10 deg. C) for others may not be that cold, but it is to me. So, I wrapped myself with layers of clothes and a sweat shirt and went downstairs to have breakfast. It was close to 9 already. (I'm not an early riser. )


It was wet out there and my plants got a good dousing of water.
The rain would let up a bit and then would drizzle again. The ground was wet, of course, and it was good for the plants. I have a plant in the patio that needed watering yesterday, but I never got to water it. It was nearly close to death...I think. The branches were about to drop on the ground. Now, it's watered by the rain and it's doing very well. It's now a happy plant.

As I looked out to the backyard I see mist hovering amongst the trees and ground cover on the slope. Brrrr...it's a somewhat wintry scene. Out on the front of the house, south east side, I can see very little of the hill beyond. It was mostly covered by fog...thick fog. On the west side I can see the bright red-orange glow of the sun as it sets. At this time of year the sun goes down at about 5 PM.
I made dinner early so I can bundle up and watch TV.
The mist creeping slowly as it covered the valley.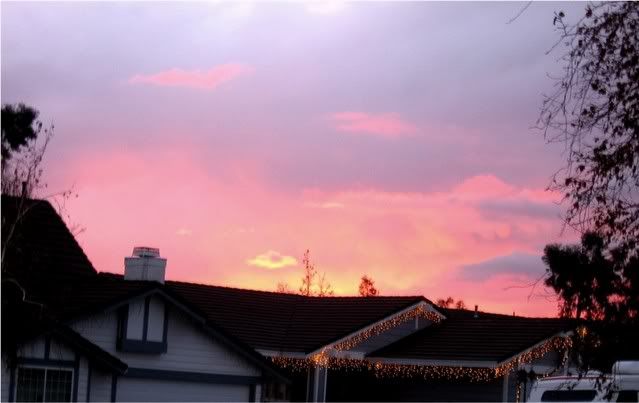 The bright red-orange glow of the sunset.

**************************************************************
Today we have a bright and sunny day. It is so clear we can see forever. Hmmm...I feel like singing that song.
************************************