The face behind the blog.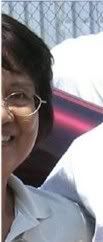 It's getting cooler nowadays. Winter is fast approaching and so is the coming New Year. No resolutions for me to make, as I know I'll never do any of them. Oh, maybe, a couple of weeks, then I'd gradually forget the whole thing on purpose...like, oh, I forgot I was supposed to wake up early today. But, we all know that old habits are hard to break.
Having said that, let me move on to the matter at hand--the assignment handed to me by
Nona
many moons ago. Why a meme? Who knows? I'm not the so important person that I would have a memoirs. So how many pages would there be if I really write one. Probably about 40 pages or less and in pocket book size, and that would cover from my birth till today.
Now on with the meme.

1st step:
Post a short blog article that includes a photograph, or a series of photos showing the face behind your blog. If you already showed a photo somewhere on your site, such as in your profile, then make your post more interesting and choose a photo that's not currently online.


2nd step:
Include links to other people that have displayed photos, or include their photos in your post, adding a reference.

3rd step:
Tag as many others as you like to spread the meme.

And now the face...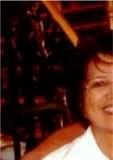 Oops!


I'm hardworking when I get to it; and would be rolling full steam ahead once I get started. A caring, loving wife and mother of 2. Can't be bothered with frills when dressed; likes simple things; less is more - but more money is not bad at all, if I can get a hold of more, of course. Can be a great friend; trustworthy; and helpful. Don't like show-offs; arrogant people; braggarts; hypocrites and the like.

Who to tag? I don't know anyone who hasn't pasted their photos. I know two friends, but for sure they would not do it; they would go into hiding; or pretend they never read this. Har har har. So, I'd leave it to anybody who is willing to put on their blogs their glamour shots, or unglamour shots.
Anybody?