It was a very nice warm day out there. The sun was up, and no dark clouds hovering above. I, however, could not enjoy it; am confined to my bedroom feeling ill. All I could do was look out through the door, from my bed. It's not fun being sick.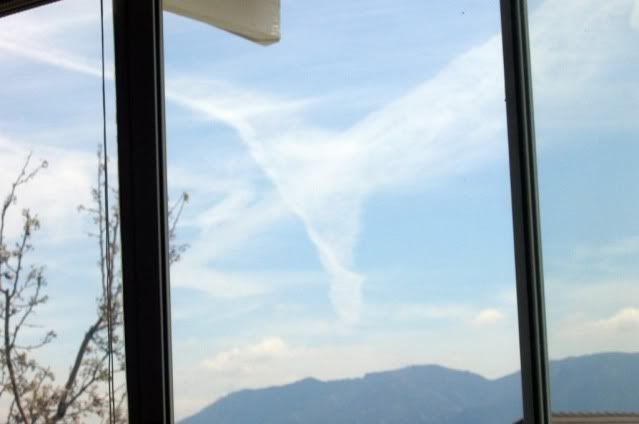 The pilots are having fun, enjoying the beautiful day; making squiggles of contrails with their jet planes. What fun! Wish I could do that. That is, if I have the nerve to board a jet plane flying 600 miles per hour. It must be scary looking down with nothing below the feet except the earth way down 1,000's of feet. It is unlike being on board a jumbo jet where passengers are enclosed. There are walls, and a ceiling that make one feel more secure, like being in a house right on the ground. But, of course, when looking out the tiny window, one is reminded that the plane is above ground, up there thousands of feet high.
Now the pilots have made curly trails, that look like a loose crochet knot. They sure are having fun.
In the meantime, I lay in bed trying to pass the time away reading. And what happens when one reads a food magazine? One craves them, those mouth watering foods...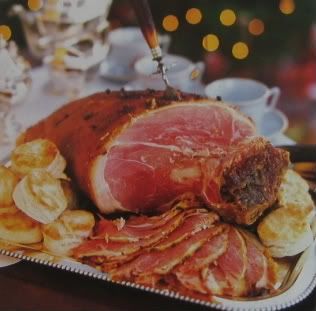 ...like this lovely ham...
...and this delicious looking dessert.
Life sucks when one is ill. On the other hand, I'm still lucky to be able to eat whatever I wanted. My husband fried some fresh sardines. LOL And he grilled chicken thighs that I have marinated before getting bed ridden.
I stayed mostly upstairs as it's warmer up here. From time to time, I would sneak in that room where my pc is. But when I start to get cold again, being attacked by whatever bug bit me, I crawl back in bed. I wish this bug would get tired of me and leave me alone. I wish it would get tired of my smell, since I haven't bathed for the last few days. What if I gas it? It might leave, or might not. It's known that yucky things like yucky smell.
I'll miss the fun at the Easter Picnic at the park. Oh, well. I'm getting a little better now; have spent a longer time here on my pc. And, there will be another day...
Happy Easter, all!