The loss of the hummingbird chicks was heartbreaking. It was sad that they were devoured by a hungry blue jay, lurking in my backyard. However, a couple of days before the tragic end of the chicks, other birds have been building a nest nearby.

A few feet away this pigeon had scoured the area and had built a nest in this same basket they have occupied a few times before.
Yesterday I found this pigeon inside the basket, with some twigs for bedding.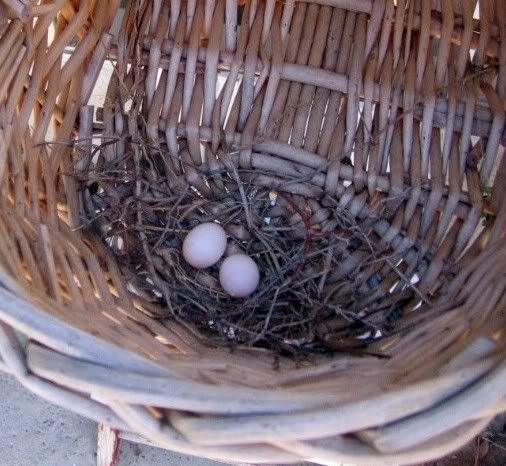 And, lo and behold, I found two eggs. From what I remember they usually lay 2.
Last year I was about to throw away my old straw hat, then I though, maybe, I
should hang it in my pergola, for the birds to build their nest. And to my surprise, they did! I made sure it was away from the reach of cats or rats. Hopefully, the

blue jay

won't get to it.
I took a ladder to get to peer inside the hat and I found some baby

finches

. I don't know exactly how many they are, but I'm sure there are more than two. A few days more and they would be big enough to fly and be on their own. Right now they are being fed by both parents. I see them fly in to bring the food and take turns feeding the brood.

Here's crossing my fingers that they make it out of the nest and enjoy their adulthood, and come back next year.