A week after the fire here in the valley, we slowly return to our normal routine. The fire has died down, and we cleaned up our surroundings, as the gusty winds have strewn debris all over the place. I vacuumed and dusted the house; swept the back yard of leaves and ashes; hosed down the patio; put my potted plants back up to their places and watered them. In the early morning hours as the dew drops moisten the ground, the smell of ash permeates the air. It hangs there until the sun warms up and dries everything around.
This lady is back to her usual morning of roller blading with her pet dog.
A family (below) have just visited a haunted house at the civic center.
Sunday morning, my husband and I went out for our weekly meandering. We drove down White Street and found some of the brush burned hills very close to homes. No houses were burned in this area, but it clearly shows that the fire was too close for comfort.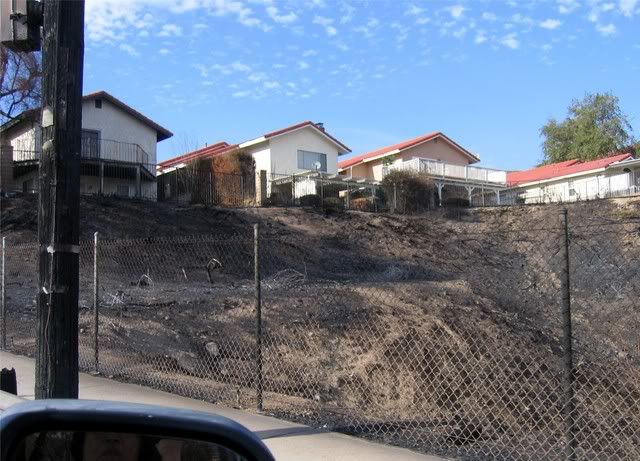 We had lunch and then came back a few hours later. We drove through the back street leading to our place, and we found these houses burned to the ground. There were 5 of them in a row. It's sad to see these homes turn to ashes, even their cars were burned. It's a grim sight to see, and most especially to the homeowners. These houses are a mile away from my place.




Hopefully, the homeowners would get back to rebuilding their homes after everything is worked out by their insurance companies. The federal government have promised to help those who do not have home insurance.
***********************