On the last Saturday of the month of September, my husband and I headed once more to Redondo Beach, about 30 miles south of downtown Los Angeles. Before reaching the place, however, we made a side trip at Manhattan Beach, which is north of Redondo Beach, to check out the latest stuff they have at a computer place. The truth is, this is the main purpose of our trip down south, to browse the computer show. My husband bought some gadgets and other electronic stuff that I don't know what they were for. When we were done, we headed down to Redondo Beach where we'll have our lunch and take a leisurely walk at the pier and the board walk.
We usually have lunch at a Korean restaurant, right on the pier, and our regular fare there is their hot and spicy fish soup. It is so spicy it feels like smoke is coming out of my nostrils, eyes and ears. But I just love it.
As usual there were people fishing along the railing of the pier. On this day, however, there's something that people were gawking at. It's this English artist who's been doing his three dimensional street paintings.
Julian Beever
has been all over the world painting on pavements and his work has been featured on TV, on the internet, in newspapers and magazines. It is a treat to see him in person and at work on one of his famous paintings.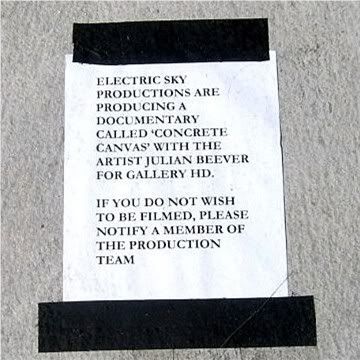 (click on image to enlarge)

Sign on the pier concrete floor.
View of painting at its lower end.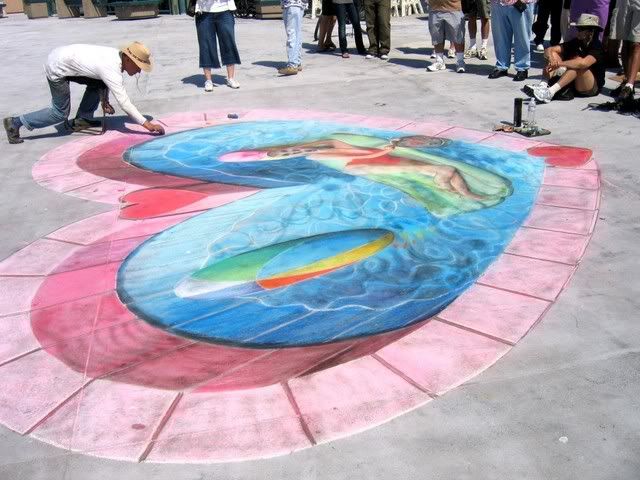 The artist at work on the edge of the painting.


The painting has to be viewed at a certain angle to make it appear three dimensional.

(click on image to enlarge)


The three dimensional view.
See some of his artworks
here
(
click here
).
******************************************
Street Painting
"Street Painting" is the activity of rendering artistic designs on pavements such as streets, sidewalks and town squares, by using impermanent materials.
The Origin...click here.
*******************************************