...roses? Hold on! This rose is by the wayside and I know that people walk their dogs here. And everyone knows that dogs do their business here, out here. Oh, you know what I mean by business...they poop and pee.
And what is this rose doing here? It should be there in a yard, out there in a well cared for place, where it's watered regularly; where it's beauty can be admired by all. Here it gets nothing but dust, and dogs' businesses.
Now, if I smell this rose, what's going to happen? Would it make this dark clouds above me disappear? Would it bring me tons of money? Or would I just smell pee? Ack!!! Forget it, I am not going to do it...unless, of course, I'd get that tons of money. That...I'm sure will get rid of this gray puff of clouds above me. :-p

I better get going. I bought sardines at the fish store and I'm rushing to have it for lunch. Yes, it's fresh sardines. I love fresh sardines. I grill it, bake it or fry it, and it's umm, umm good.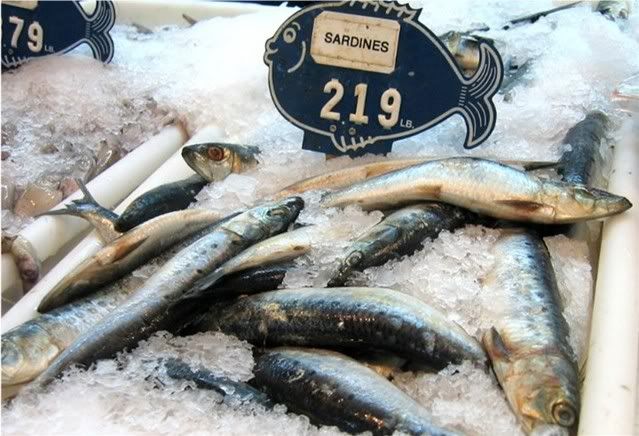 They were caught in the sea. They can be canned, grilled, baked or fried.
Umm, sarap, nagutom tuloy ako.
They can be dried or smoked (
tinapa
) as well. Sardines are our
tunsoy
in Tagalog. Each time, however that we go to our neighborhood
sari-sari
store to buy
"sardinas"
Leung or Akong would give us the canned one. I love the canned Tomi brand that is in oil with a bit of red chili and a tiny slice of carrots in it.
Umm...lalo akong ginutom.
I have to go back to that rose. I got this fortune cookie from the last time I had lunch at a Thai restaurant, and it said:
"It's okay to slow down and smell the roses. "
********************