My husband and I like watching California's Gold TV show which is hosted by

Huell Howser.

In one of his recent shows he visited

Clifton's Cafeteria

in downtown Los Angeles. The place looked interesting and we thought of taking a visit to the place. Downtown LA was my stumping ground many years ago when I lived a few blocks from it. Everyone within a short bus ride would go there to shop. May Company and Sears have their stores there. My former landlady worked at May Co. until she retired. May Co. is now Macy's.

I now live with my husband about 40 miles from the heart of Los Angeles. Embarking on a mini-adventure would also let us take a peek at the old place. We decided on a week day on the second Thursday of this month. We took the most convenient way to travel there nowadays -- the
Metrolink
(train), then a bus that goes around the city.
Enlarge images by clicking.


We were on the landing level--right at the top of the first steps--as the upper deck was already full. At this level there were only a few seats, about 18. We sat across a family headed to one of the towns before it reached downtown. In 50 minutes the train pulled in at the Union Station, it's final destination.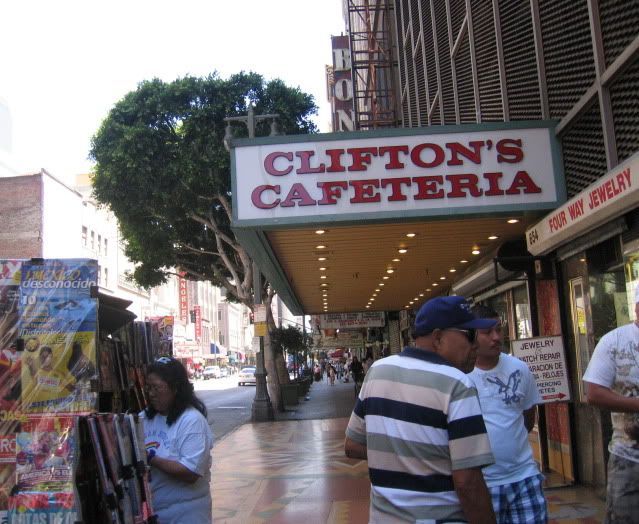 We boarded a bus, and we found the place in no time at all.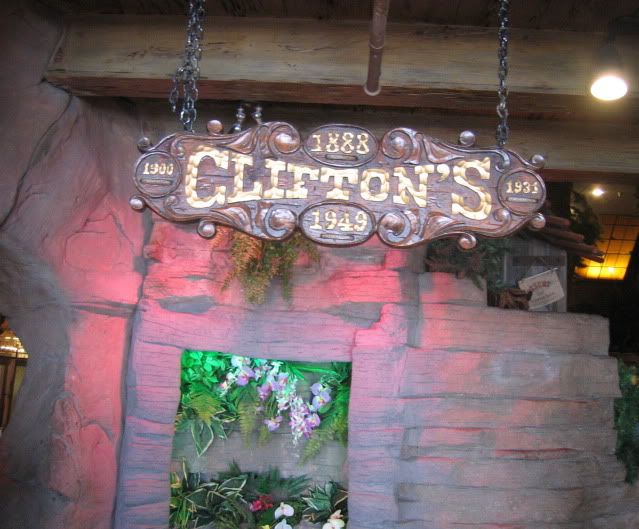 The sign at the window before the entrance.
The steps leading to the second floor balcony.
A moose head at the second floor railing.
Another stairs leading to the second floor dining room.
A stuffed deer right above a water fall.
The view from the second floor looking down.
A cabin with a small water fall beneath.
Clifton's was built in the 1930s and the forest theme is still the same to this day. The interior was kind of dark because of the woodsy decor.

We had lunch there and I had roast beef and mashed potato with gravy and green beans. My husband had fried chicken wings and some kind of veggies. The food was okay. After lunch we stepped out to the sidewalk and planned our next stop. Then we turned to our right and walked northward. And we walked, and walked...and walked...and walked...and w...a...l...k...e...d...