I have been a slacker lately. I have made drafts to post, but somehow I have decided not to publish it. I lost the interest to do so, and now it's there lying untouched, unedited and incomplete. I was mostly bloghopping...reading and commenting. So many things on my mind it had overwhelmed me and I can't seem to focus on any of them.
It's now just a few days till Thanksgiving. I have thought of making a menu for my little get together with my, and my husband's, kin that I have lost touch with for quite sometime now. Were it not the invitation extended by my husband to his cousin, which we run into last month, I wouldn't have thought of doing this...the get together. Oh well, I guess, it's about time I dust my house - have a somewhat thorough cleaning; take my glasses from the cupboard; the dishes and linens which sat there unused for a while now.
Having a party takes a lot of effort...for me, that is. I have to do most everything - shopping, cooking, cleaning, setting the table and all that. Cooking is something I'm not fond of doing. Nope...it's not my cup of tea. Neither is cleaning. (Tamad talaga.) I, however, have to invite some people to have a little party, otherwise, I won't be asked to their own gathering. Hi hi hi.
I bought my turkey last Friday. I have to do it way early so I'd get the size I wanted. Last time I had turkey I waited till it was close to the day, and the small ones were all taken. I was forced to get a big bird, else I'd settle for ham. Thanksgiving doesn't seem to be Thanksgiving unless turkey is served.
I'm thawing it now in the refrigerator. It will take roughly 3 to 4 days to thaw. If it's not thawed by Wednesday night, I'd have to do it in cold water.
I hope it turns out good. If it burns, sorry, I'm not a good cook.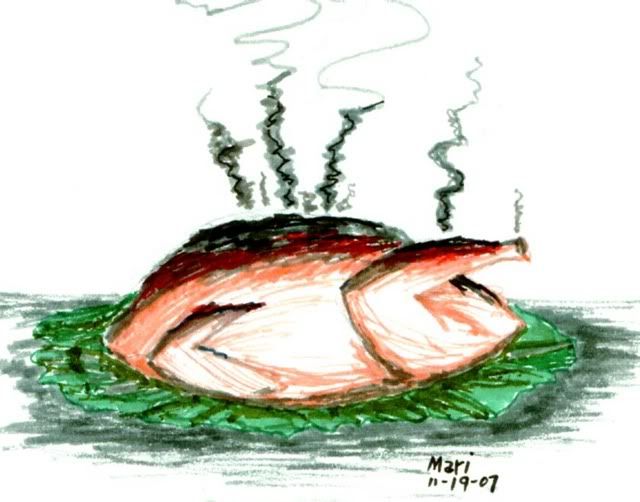 Thanksgiving is what is defined clearly by the word itself. There is no point in pulling the dictionary and defining it the way Mr. Webster did.

I am thankful for the good graces that me and my family have; for our good health; for being safe from harm (the recent wildfire); for having good neighbors, good friends and most of all good blogger friends, of course.

Happy Thanksgiving to all!
***************************************