As I was having breakfast yesterday morning, a report of a fire came on TV. I went upstairs and looked out from my balcony and this is what I saw, smoke coming from over the hill. It scared me. That fire could easily come this way, as there was gusty wind fanning it. I would guess that it was about 20 miles from my place.
It was the same month last year when there was
wildfire all over Southern California
. One came so close, about half a block away from my home, that we packed some of our belongings. My neighbors did the same. We all watched as the fire started to spread on the hill. Luckily a helicopter came and doused it, and that saved our homes. But there were some unfortunate ones whose homes were razed to the ground. (Click here for story.)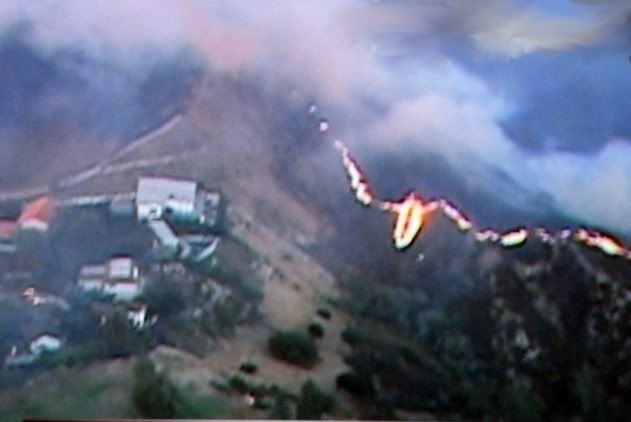 There were other fires blazing yesterday. This one pictured above was about 20 to 23 miles from my home. Some homes were burned to the ground. Residents had to evacuate, and as of last night the fire was still raging. There were more than 1000 fire crew battling the conflagration.

These fires could jump from one area to the other as the wind flies embers and it could easily ignite dry brush. We get very little rain here so that our hills turn brown during summer; turning brush tinder dry. Some fires are started by careless campers; others are ignited by sparks from cars; by children playing with matches; and some by arsonists.

Having experienced a close call last year makes me jittery when I see smoke billowing from the distance.