On the last Saturday of the year 2008, my husband and I went to visit Redondo Beach. We had lunch at a restaurant on the boardwalk, then we took a leisurely walk up the pier.
It was a nice warm day, perfect for strolling, watching, reading, feeding the birds and whatever.
Walking up the ramp near the boat slips we spotted a seabird on its back trying so hard to get back upright. Its head was in the water and it struggled so hard to keep it up for a breath of air, while flailing its legs. Its wing or wings must have been broken. We were rooting for the bird. "Come on bird, come on. Get up. Go...go." But sadly, it lost the battle with the water, and...it died. We could do nothing but watch the little creature drown. The public is prohibited from going in the water on that side as there are big jagged rocks surrounding the railing.
A few yards away was this flock floating, basking in the sun.
Here another seabird lurking, looking for its meal. A small school of fish can be seen at 11:00 o'clock (upper left hand side).
Then the seabird dove in the water, and chased its meal.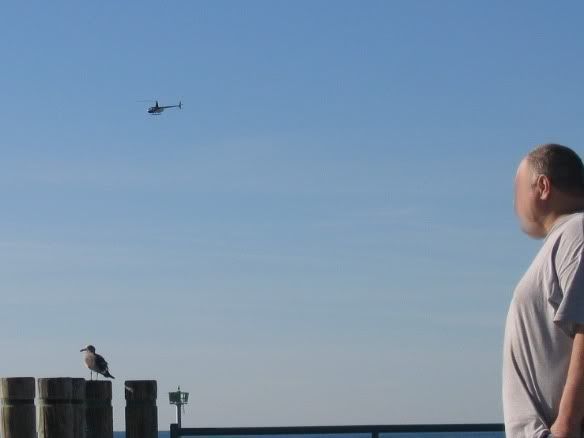 Machine, bird and man. That's a sheriff's helicopter flying on a mission somewhere on the beach, where there was trouble. There were 4 of them. Bird was bird watching, looking for lovely chicks. Man ate too much.
A flock of pelicans on a restaurant's roof top.
These pelicans came down from the rooftop to wait for hand outs from a fisherman. Later on a beach police officer came over to stop the fisherman from feeding the birds. He didn't see the fisherman in the act, but his presence was enough to stop the violator.
A fish got lodged in this pelican's pouch. It was in the wrong angle and the pelican could not swallow it. After a lot of twisting, turning and shaking, it finally got it right and swallowed the fish.
And there were those people who could not care less as long as they have each other. Uuuuyyy, kissie...kissie.
On to more fishing for the day's meal.
They bring everything except the kitchen sink. I saw one bring a stove, mind you. Sink is provided for cleaning fish.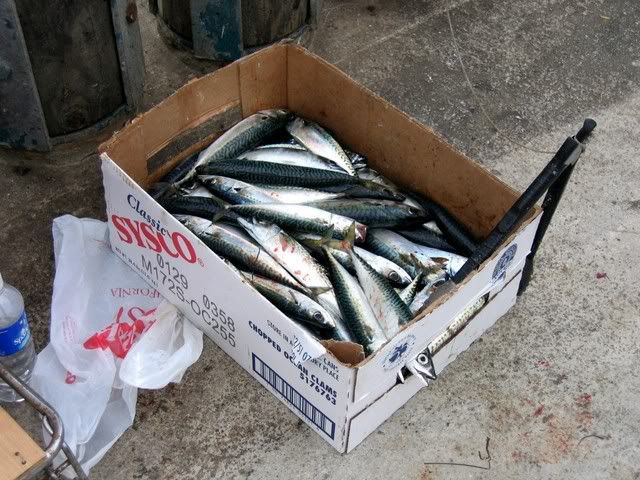 A boxful of mackerels, the catch of the day.
Finally, we headed home. And on the freeway we saw Will Smith. Hmmm...did he wink at me?