The bus made another turn this time to the left, and stopped right there in front of The Union Station. I nodded to my husband. He stood up and made for the door, and he helped me alight. We walked toward the station.
(Click images to enlarge)


The Union Station.

This building was built in 1939. It is a combination of Spanish and Moorish architecture on the exterior; and the interior is of art deco style.


The information kiosk manned by friendly employees. They have maps, brochures, and schedules ready for those who come to ask for assistance, or for direction.

Behind the kiosk are a restaurant and a store, and the spacious waiting area with rows and rows of upholstered comfortable seats. All the materials are original. They have not been replaced since it was erected. The ceiling is richly designed with chandelier. On both sides of the area are doors that lead to landscaped courtyards with benches and fountains.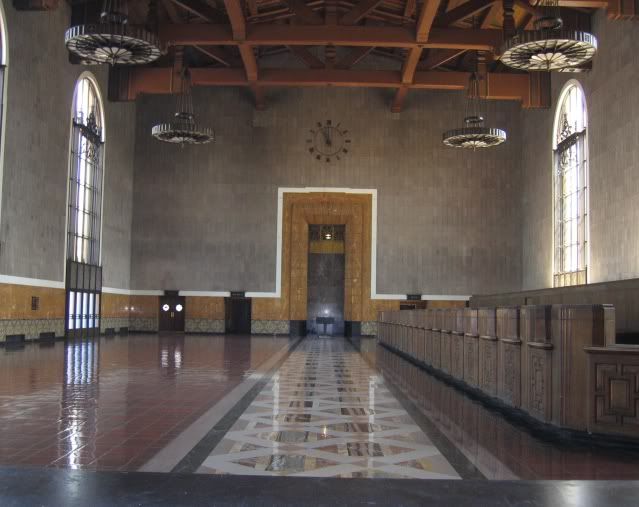 This was the ticket lobby that is now closed to the public, due to the decline of train ridership. It has a row of about 2 dozens ticket windows. During its heyday this was the place where every one came to travel to all parts of the country. It was then used by everyone from all walks of life -- from the rich and famous to the not rich and obscure people. There is now in its place a smaller ticket booth that is served by 2 people; and computers are used to dispense tickets. Departure and arrival of trains are posted on a board electronically by a computer


We found a secluded seat for two and waited till our train pulls in. My husband took a catnap while I looked around and observed people around me. There were 2 young people with big backpacks and duffel bags who came in and purchased tickets. I assumed they were going out of town. Some people have just arrived pulling their big luggage. They must be from out of town. They were met by some friends or relatives.

Union Station has resurrected in the early 1990's when Metrolink was introduced giving the public convenient transportation to and from the outskirts of Los Angeles County and downtown; and to neighboring counties as well. Ridership has gone up and some companies are subsidizing their employees' tickets. That saves them parking fee which costs a lot in downtown. And, also, it reduces traffic and pollution.

When it started operating, we were sent free tickets. I never had the chance to use those. Students in our area have field trips to the city to give them a chance to experience riding the train; and to encourage them to use it. It is now a popular mode of transportation. Some passengers can take their bikes on the train; and when they disembark they can use their bikes to where they are going. Lockers are provided for those who don't want to take their bikes with them.

Half an hour before our train pulls out we headed to the platform.


It was perfect timing. The train just came in and we headed to the upper level; found seats for two in the back row and waited. We chugged out of there 20 minutes later.



We passed this very old bridge. There was something I like about the arches. It's full of graffiti and grime, but I just love it. I must be nuts!

The train picked up speed and at the first station picked up some more passengers, and moved on again, stopping at other stations.



About 40 minutes later we were getting close to our home station. The traffic going north (cars in background going left) has already built up. Had we taken our car we would be one of those stuck in bumper to bumper traffic. Going south towards downtown Los Angeles, traffic was light. At this time everyone was heading home after a hard day's work. In the meantime, we were taking it easy inside the air-conditioned train. My husband closed his eyes again and took a nap. I'm glad he didn't snore.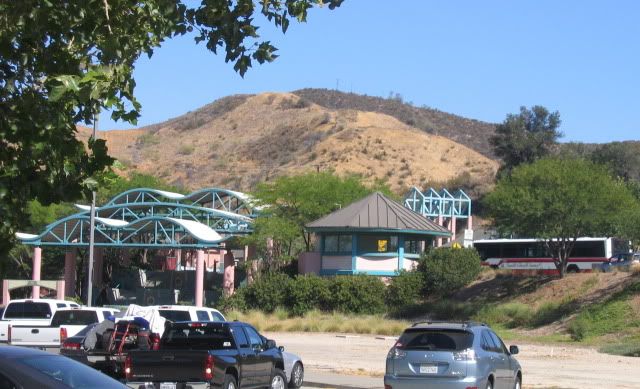 And finally, here we were back to where we boarded the train. I was so tired from all that walking. That night I slept like a log. I was glad I woke up the next morning. I'm alive!!!